The TES process
We understand data center decommissioning programs come with lots of challenges. TES works with the largest cloud companies in the world and is well versed in how to compliantly, securely and efficiently manage those challenges.
Our process starts at your site, where our team of experts handles the physical decommissioning, inventorying, reconciliation, data destruction and asset packaging for shipment.
Then, we process your assets in one of our 40+ owned processing centers to exacting standards.
Data center decommissioning services from TES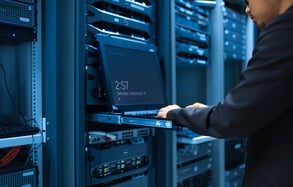 Seamless on-site services
We remove all racked equipment, hard drives and services so we can move it all to a staging area for prep and final processing. Our experts conduct a full inventory of your entire data center so we can provide the make, model and serial number for each unit and reconcile discrepancies. We then either data wipe by performing a drive overwrite to exceed the NIST 800-88 standard or physically destroy your storage media.
After identifying unused cables and removing them from your facility, we reconcile equipment lists and decommission assets, ready to ship to a TES facility and ready for our expert logistics team.
Asset processing
Our detailed testing procedures validate the functionality of your assets, allowing us to identify the value of your parts. Our decision tree algorithm allows us to determine whether parts generate a higher value by harvesting and selling those parts - or reselling as a whole. Our relationships with hyperscale datacenter companies give us access to a variety of resale markets so we can leverage to drive higher values.
The diversity of our footprint gives us local market knowledge and we always use a data analytics-driven approach to track pricing, sellers and buyers, so we can sell products in the right place at the right time - depending on where pricing is best.
Sustainability
Just like nature reuses and recycles its resources, we believe the same should be true of data centers. With global IT the third largest global carbon emitter, TES' certified recycling process ensures all recycled materials are returned into a reusable commodity while our robust sales channel maximizes lifetime value, boosts value recovery and creates a lifetime value multiplier.
In the final step of the decommissioning process, our inventory management system enables automatic identification of assets and parts sustainable for redeployment so they're available from our forward-stocking locations.


What is my data center & enterprise IT equipment worth?
You can expect the timeline towards decommissioning to look a little something like this:
8 months before
Begin asset tagging, working to understand how many assets your data center has that need to be decommissioned. At TES, we can help you with this, providing visibility over all your assets.
7 months before
Time for asset planning. This is where you can decide what assets are to be remarketed, destroyed, moved or liquidated and which ones need to be returned to the leaser.
6 months before
Based on your asset inventory and planning, you can finalize a timeline of your data center decommissioning project, including milestones that keep you on track. The experienced ITAD specialists at TES can help you with this.
5 months before
Begin wiping, shredding and disposing of assets, legacy equipment and media that need to be disposed of.
4 months before
In this month, the labor-intensive work should begin. This will include decabling and packing of servers and cabinets. In most cases, this will carry on for roughly three months.
3 months before
Begin to return your leased assets, including testing times and transportation. At this point, you should also check whether your ITAD partner is hitting its agreed-upon goals.
2 months before
Assets you've decided to reuse will move to your new data center. The remainder of the assets to be destroyed will also need to be shredded at this point. Any liquidated assets should be ready to leave the current facility.
1 month before
By this point, every major project requirement should be completed. This last month can be used to take care of the final tasks.
TES closes the loop on data centers
People like you enjoy working with TES
By leveraging the circular economy, we deliver bottom line and environmental benefits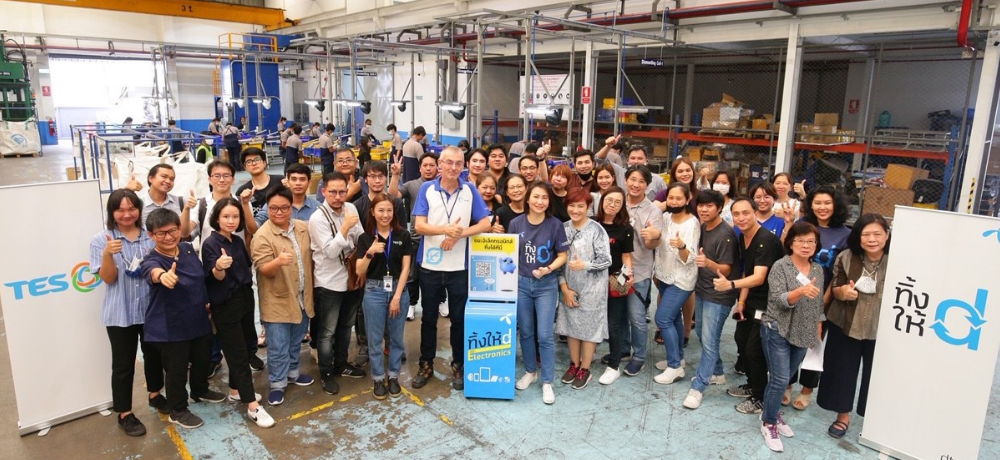 TES was able to manage all of the reverse logistics for a multinational client, including the collection, testing, data sanitization, disposition and value recovery of 90,000 assets; all within a 12-month period.
DTAC is already one of the leading mobile communication service providers in Thailand, but with TES by its side, it's now trailblazing to a new environmental benchmark... zero landfill by 2022.