Disjointed ITAD creates invisible risks and is hurting your bottom line
TES provides a one-stop solution for decommissioning and retiring end-of-life IT equipment. Our solution manages all aspects of the IT life cycle; including transportation, identification, testing, repair, data sanitization and IT value recovery.
We are where you are: true global coverage in 40+owned and operated processing facilities around the world that give our customers a consistent experience no matter where their assets are. We deliver our IT asset disposal and disposition (ITAD) services directly, which allows TES to offer a global service that really feels like a global service.
What does this mean?...
It means a lot more than lower logistics costs. It means we have local compliance experts in-region and in-country, and a deep understanding of transboundary movement globally. It means we can offer support in local time zones and languages (critical in global programs); consistency in service, reporting, pricing and values, billing in local currency – and more.
See how ITAD works with TES
More connected IT asset disposition from TES
Logistics
TES will manage return logistics to its processing facilities by providing packaging, palletizing and secure transport for pick-ups. Transportation is an incredibly important part of the process as this is where most damage occurs and where sensitive data is the least secure.

Assets are documented at your facility and then remain secure throughout the transportation. Once they've arrived, our staff will unload the assets, take an inventory and pictures; comparing the items received to the record generated by the driver at the time of pickup. This secure/unbroken chain of custody is a critical part of the process and provides the peace of mind and audit trail required by the most security-conscious corporations.
Identification, Testing and Repair
From recovery through final disposition, TES has one of the most detailed audit and tracking packages in the industry. We track and record any hardware detail you request through our proprietary database and offer you a range of reporting options. This typically includes the serial number, asset tag number, asset type, make/model and detailed unit configuration. All identifying labels, marks, asset tags and references to our customer are removed.

TES then uses scripted processes to test each asset. Functional tests check for basic functionality and examines the unit for visual damage and missing components. Diagnostic tests discover the detailed hardware configuration and system functionality. For devices that need repair, TES has a regimented repair process designed to maximize values and support our environmental corporate objectives. The level of repair can vary by unit type, technology level and condition. This decision tree is based on our deep experience in the secondary market and the market drivers that surround it.
Data Destruction
The potential of a sensitive data escape represents a substantial risk to your organization. We've designed our service to protect the confidential nature of this data and to mitigate any risks in the asset recovery process.

We offer options to erase data either at our facility when equipment is received or onsite at our customer's premises.


The data overwrite is performed to exceed the NIST 800-88 standard which is widely recognized by governments, OEMs and global 2000 companies as the standard of measure
This overwrite ensures 100% of sectors are overwritten. Drives with damaged sectors that cannot be overwritten are removed and shredded
Proof of successful completion of the data erasure is provided through a certificate of data destruction
Process audits and third-party audits are performed to ensure complete compliance.
Access to global sales channels
A physical presence in a local market means we understand the local market landscape well, we're connected to the local e-commerce and retail outlets and we're a few steps closer to the end-user sale – which ultimately generates higher returns for our clients and drives down the total cost of ownership. TES knows what different technology levels and types are priced at in 20+ countries which requires navigating local languages, cultures, regulations, time zones and more. This knowledge translates to knowing the right place to move products at the right time based on where pricing is the best.

By not using an extensive partner network and not having to compensate them for doing the actual work, TES's IT Asset Management services can be more competitive in the fees we charge and the re-marketing proceeds we give back to our clients.
Redeployment and end-of-lease management
TES' IT redeployment program lets you gain control of vagrant assets, extend refresh cycles and ensures assets are fully utilized throughout their lifecycle. And when the time comes, charges and overruns can be minimized with our comprehensive end-of-lease management service.
Get in touch with an IT Asset Disposition expert:
Find out what it's like working with TES
By leveraging the circular economy, we deliver bottom line and environmental benefits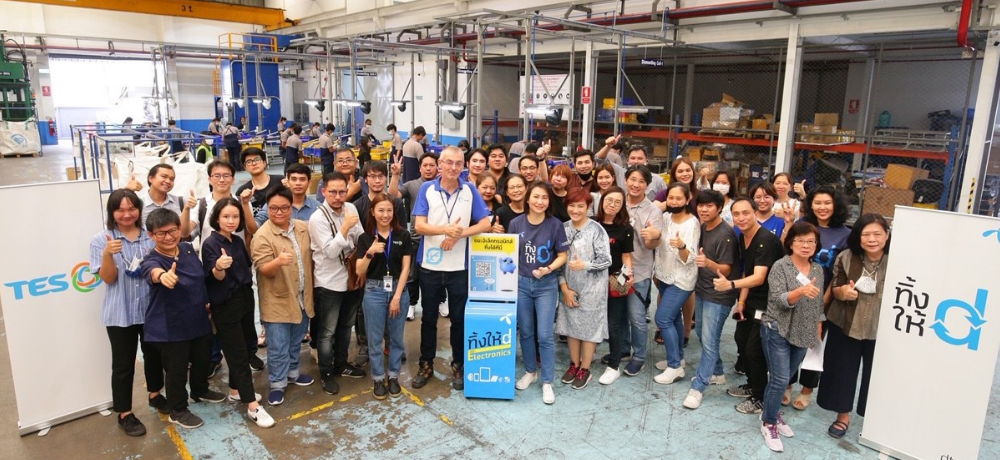 TES was able to manage all of the reverse logistics for a multinational client, including the collection, testing, data sanitization, disposition and value recovery of 90,000 assets; all within a 12-month period.
DTAC is already one of the leading mobile communication service providers in Thailand, but with TES by its side, it is now trailblazing to a new environmental benchmark... zero landfill by 2022.