We achieve sustainability through 3 foundational pillars (our 3 P's):
TES understands the significance of safeguarding privacy, brand, intellectual property and data in a digital world. The TES corporate culture goes beyond compliance by delivering an integrated suite of asset transformation services that delivers confidence. Trust and integrity are
our highest priorities.
Preserve


TES recognizes the co-dependant relationship between humans and the natural environment. We understand that enterprise and social progress cannot be sustained by environmental degradation and only responsible consumption and production can sustain a better tomorrow. By minimizing the use of scarce and valuable materials TES preserves the natural environment, and in turn preserves the health and well-being of humans.
Provide


TES acknowledges the significant role it plays in providing economic value recovery for customers within a diverse, inclusive and sustainable workplace. The TES family is committed to developing and supporting lasting enterprise, knowing their company and the work they do is sustaining a better tomorrow.
Our mission is to make a decade of difference
To securely, safely and sustainably transform and re-purpose...
1 billion
kgs
We've embedded a sustainable mindset into every aspect of the business
TES operates in an ethical, compliant and transparent way. Our commitment starts at the top and filters to all levels, with governance over every aspect of the business, from procedures to working with clients and partners.
Our initiatives have driven some amazing results at our facilities around the globe:
We're continuing to protect the environment as in 2019, our total energy consumption was 44,119 GJ and 277,141 MT CO2 equivalent total greenhouse gas emissions

We prepared in excess of one million data-bearing devices for reuse

We're aiming to reduce the consumption of energy by 15% per MT of materials processed by 2025

Whilst processing 70,000(MT) of electronic materials, our reuse, recycling and recovery rate was 98.7%
Download our Sustainability Policy: TES Sustainability Policy (PDF) 455 Kb
We work with large companies and people who consider their impact on the environment
Every single new employee at TES is trained on our Code of Conduct and other core TES policies. Last year, we delivered 11,167 hours of internal training to ensure we exceed governance requirements and continue to build our culture of sustainability at TES.

We're ideally placed to work with large enterprises who understand sustainability initiatives start from the ground up. It's not about corporate karma; it's about making sure we collectively make a lasting change.
Get in touch if you're looking to drive more sustainability in your program
Find out what it's like working with TES
By leveraging the circular economy, we deliver bottom line and environmental benefits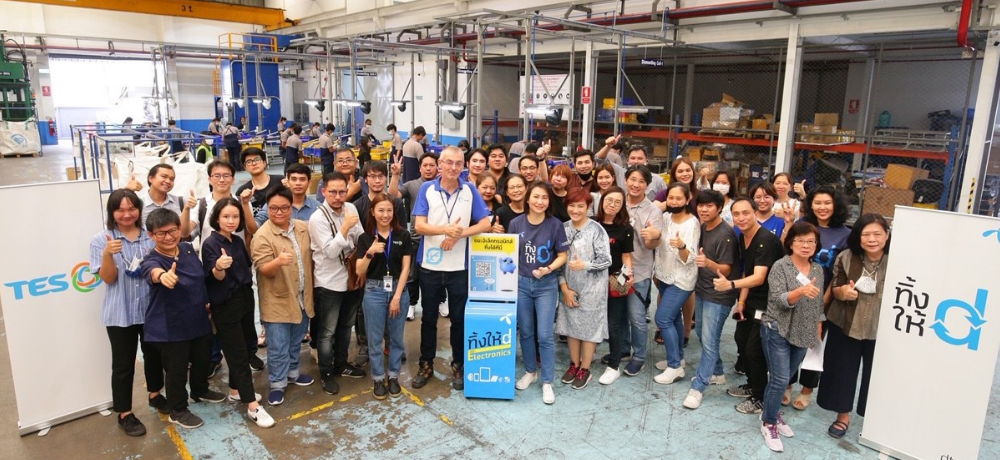 TES was able to manage all of the reverse logistics for a multinational client, including the collection, testing, data sanitization, disposition and value recovery of 90,000 assets; all within a 12-month period.
DTAC is already one of the leading mobile communication service providers in Thailand, but with TES by its side, it's now trailblazing to a new environmental benchmark... zero landfill by 2022.